WordPress Website Design Company
"Create Your Individuality Unique Identity Symbol in Today's Market"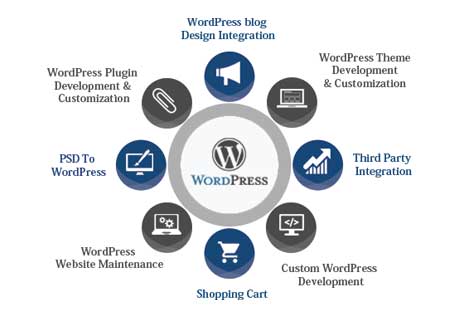 We are the top leading WordPress website designing company in Mumbai. WordPress is an open-source content management system (CMS) created in PHP and MySQL.
WordPress is installed on a web server, which is a part of an Internet hosting services the first example might be on a service like WordPress.com, and the second case might be a workstation running the software package WordPress.org.
Types include plugin design and a template structure. WordPress was liked to be used by more than 26.4% of the top 10 million websites as of April 2016. WordPress is very simple and best among the popular website management or blogging system on the Web, supporting more than 60 million websites. Mak Enterprises has design hundreds of website on WordPress fulfilling all clients requirements in customization work.
#1 WordPress Web Designing Company
Like the simplicity of WordPress, It is used by millions of people and almost getting used every day by new people, they are joining the WordPress community by creating their first WordPress powered websites. The reason why people quickly adjust to WordPress is that it is fairly easy to use.
Our website WP Beginner has lots of objects written in detail at the beginner level WordPress users. We have a complete step by step guide on how to install WordPress and hundreds of other WordPress tutorials. If you need somebody knowledgeable to set up your WordPress site, then our brilliant staff supporters are happy to help you get started. Design your first WordPress Website from the professional company in Mumbai.
Our WordPress Website Design Company Services:
WordPress Installation
WordPress Design
Website Patterns
Modified WordPress Themes
WordPress Troubleshooting
WordPress Well-matched Store and Shop Handcart
Mak Enterprises WordPress Theme
Mak Enterprises WordPress theme is a background for your website. It includes a sequence of templates and plugins that create essentially of the practical and design work for you. The theme move toward with the latest plugins and widgets that help you with trials, references, supervise lists, and much other. It is completely responsive, so it looks awesome on mobile phones or tablets, and especially best experience for screen-readers and graphic user-friendliness.